Building a Successful
App Business

in the time of COVID-19
Past event - recording from May 12th 2020
The world has been turned upside down; streets are nearly empty, everyone is confined to their homes, small businesses are taking a huge hit, and millions of hardworking people have lost their jobs. It's easy to be sucked into 24 hour news cycles where you'd believe that hope for a better future is lost, but among the ruins of financial disaster lie opportunities to innovate.
"In 2020… There will be a widespread belief that the World Wide Web is less important and useful than in the past and apps are the dominant factor in people's lives."
– PewResearch Internet Project 
Are you interested in learning more about how you can build an app business? Want to be the next AirBnB? Tinder? Instacart? Instagram? Or do you just want an app that complements your current business? Maybe for deliveries and customer acquisition?
Join us on May 12th, where we'll show you how to develop these kinds of apps and more. With over 16 years of experience building custom software and web and mobile apps, you'll get an introductory course on the fundamentals of building an app – from the ideation stage to the MVP and beyond.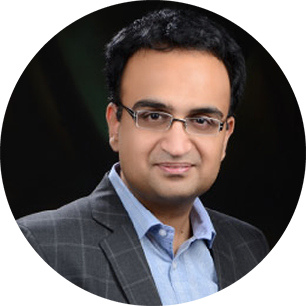 CEO & Managing Director of JumpGrowth
Hemant is a seasoned serial entrepreneur with over 15 years of experience in IT & Software Development specializing in web and mobile apps. He has worked with small, medium, and enterprise businesses across the globe providing IT and software services tailored to their needs. These services include, but are not limited to, web, mobile, wireframe and MVP development, business management, P&L responsibility, and team management. His team has built over 100+ apps and has a portfolio of over 300 company case studies.
Hemant is the founder of Sodality, a mobile app platform helping non profit, religious and membership organizations engage with and grow their membership network; Co-founder of FieldTasks, a subscription based field technicians management software platform; and CTO for BAMM, Before and After Meeting Manager for planning, collaborating, sharing, and managing all of the crucial details needed for a productive business meeting, or a great get together.
With his extensive experience in successfully building and deploying apps and managing development teams, Hemant will walk you through the necessary steps for how you can build the next groundbreaking app business, despite Covid-19's economic effects.
During This Webinar, You'll Learn More About

The app businesses that were built during the 2007 - 08 financial crisis

The ideation phase of building an app

Putting together wireframes for your app

Building an MVP