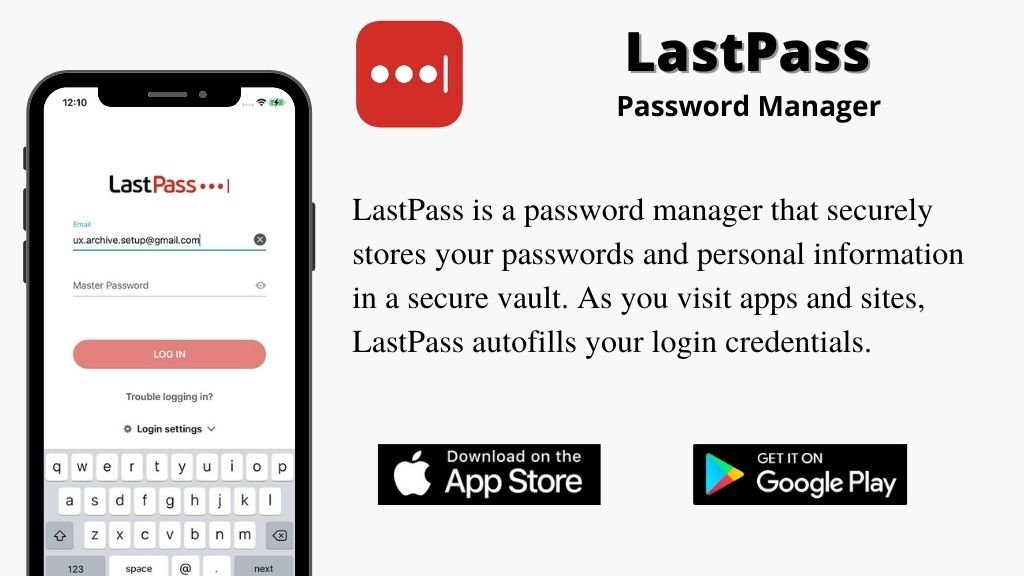 Introduction
With tons of new apps and websites that people sign up for every day, it can be stressful trying to remember your password for everything. Instead of keeping your login information in your notes or on some piece of paper that anyone can find, people should start looking into more secured ways to save their passwords. LastPass- Password Manager is free to download app that allows users to securely manage and store their passwords and other personal information. Instead of having to remember multiple different passwords you will just have to memorize one, your LastPass master password. 
Features and tools
The way this app works is very simple. If you remember our LastPass password, you will never have to worry about forgetting any other logins. Whenever you visit any app or website, LastPass will automatically log you in with your credentials. One great feature that this app gives its users is the ability to use their app across all your different devices. 
LastPass also gives users the tool to securely save their important credit card or even health insurance card information. Since you are storing very important information it is only right that you can feel safe and secured. Therefore, I love their multi-factor authentication feature. This gives anyone that uses this app a second layer of security to make sure their passwords and other personal information are safe.  
App Rating
User-friendly: 4.5 
Design: 4 
Features: 4 
Engagement: 3.5 
Reliability: 4.5 
Overall Score: 4.1/5
App Details
Size: 98.7 MB 
Category: Productivity 
Age Rating: 17+ 
Final Thoughts
No matter how good your memory is, it can still be difficult to remember all your different passwords. If you are someone who tends to have to reset your passwords often, LastPass– Password Manager is an app I believe you should look into. Instead of relying on your memory or just writing your passwords in your notes, this simple and secure app is a much better option. With it being free to use on IOS and Android devices, there is no reason to not give it a try.  
Need Help With App Development?
Our experts can help you in developing your next world class apps.