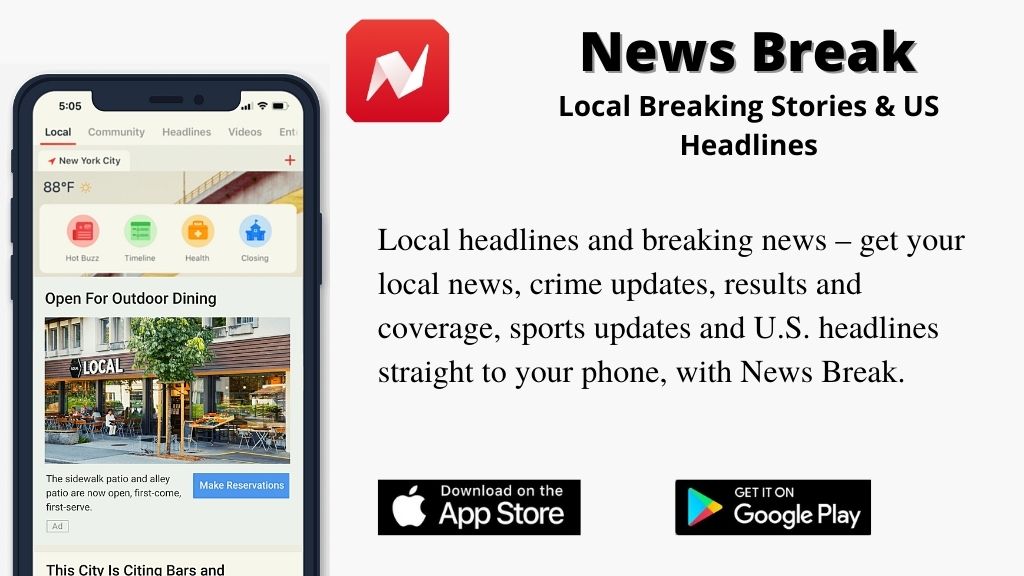 Introduction
Nowadays there are hundreds of different ways and outlets to get your local news. With many different tv news channels, internet news outlets, and social media platforms it can be overwhelming trying to find the news you care about.
News apps on your phone are now becoming one of the most popular ways for people to get news. People are really starting to gravitate towards easy to use and efficient news app for everyday use. News Break is one of the current most popular news apps for its ability to deliver users local and breaking news.
Features and Tool
Many news apps can provide you with up to date news, but to be one of the best on the market then you must have great features and tools. One of the great features News Break has is its "Highlights." This feature gives you a personalized feed with your local briefing of daily local news, traffic events, crime, national headlines, and more. Another great feature is the "Your Community News" section on the app.
This tool allows you to see everything from local restaurants/shop openings, stories from local writers, and more. The last tool I wanted to talk about it's the ability News Break gives users to follow or block trends. This allows the users to decide whether they want to see certain topics or trends on their feeds! You can follow trending topics that are relevant to you or simply block them.
App Rating
User-friendly: 4/5
Design: 4.5/5
Features: 4.5/5
Engagement: 4/5
Reliability: 4.5/5
Overall Score: 4.3/5
App Details:
Size: 46.8 MB
Category: News
Age Rating: 12+
Final Thoughts
With so many different places to get your news from, it is a good idea to find an easy and fast way to get the news you care about. News Break is an easy to use app that gives users the ability to customize and highlight everything they want to know about. If you are tired of flipping through different channels or scrolling through tons of websites to find the news you care about, then you might want to give this free app a chance.
Need Help With App Development?
Our experts can help you in developing your next world class apps.