Hopper (iOS, Android) has become a favorite app for travelers, helping you save money on travel expenses. Hopper helps you find the cheapest flights and allows you to book your airfare ticket. Hopper predicts the cheapest flights up to 95% accuracy to help you find the exact flight for you. Hopper Hotel also enables users to find the cheapest hotel rates and book reservations as well.
Book and save through Hopper:
All traveler knows the hassle behind searching for a cheap flight last minute or to just book a trip. Booking a last minute flight can be difficult, from finding the next flight and also finding the cheapest flight.
Now imagine being able to book to cheapest flights and book reservations at a low expense all in one sitting. Introducing Hopper (best app for travelers), the newest travel app on the market to help book your travels and stay, by the fastest and cheapest way.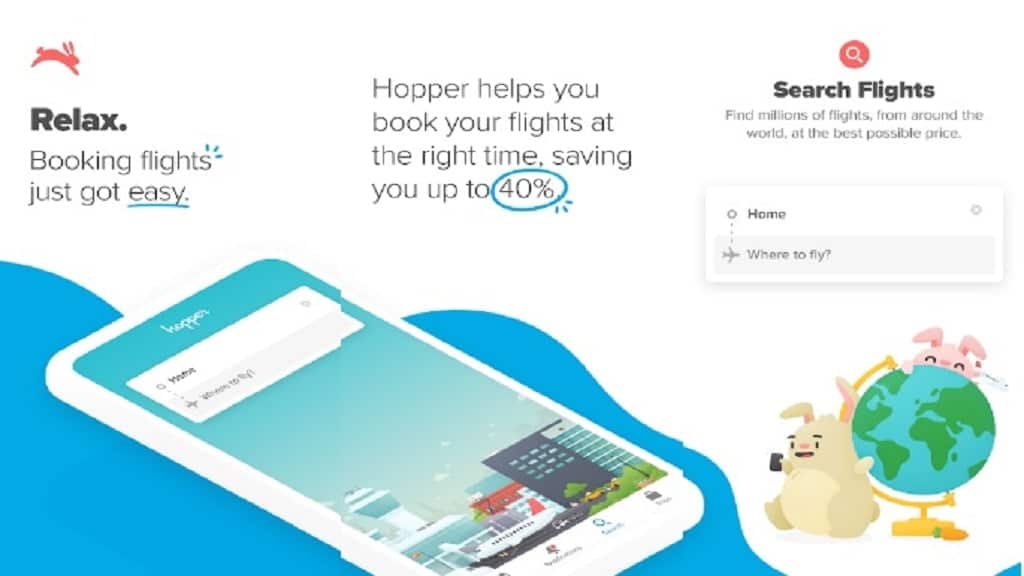 Hopper is here to help ease your travel anxiety, whether it's having a packed flight or losing your luggage. Hopper helps travelers save up to 40% in booking flights and hotel reservations. With a few simple clicks, enter in the destination you're traveling to and the app will source the best deals, from ideal travel locations to give an easy understanding snapshot of fares. Search over a million available flights, hotels, even car rentals. Enable your push notifications and the app will notify you when it's the best time to buy. Whether it's now or later.
Hopper features major airlines used all across the US and around the world, from as American Airlines, United Airlines, JetBlue, Alaska Airlines, Air Canada, Frontier, Hawaiian Airlines, WestJet, British Airways, Air France, and more. Customize your trip options by using filters to help find the best flight and price, get personalized recommendations on deals. You might like based on your previous trip and budget. With 24/7 access to customer service. Hopper agents are available to your needs at any time of the day.
Standing at 4.9 stars and over 300k+ ratings, Hopper sits at #11 travel app in the app store. Over 30 million travelers have successfully booked trips through Hopper, helping your pockets by saving users more than $1.8 billion to date.
Need Help With App Development?
Our experts can help you in developing your next world class travel apps.