The idea of dating isn't new, but the idea to create an app for it definitely is! In the past decade, we witnessed an unstoppable hype of dating apps in the market- Tinder being the most popular one yet. But how to create a dating app of your own? Well, the answer to that isn't so simple.
"Ah look at all the lonely people", the Beatles sang in their Eleanor Rigby song. Many things have changed since the 60s- including the way people discover soulmates.
Humans cannot put the idea of dating into the exact timeline. But with time, the approach, methods, dating has seen a fair share of evolution. Yet, in the end, the core idea of dating still remains the same- since time immemorial. We have been known to date our counterparts for as long as we have set foot on this earth. But after the revolution that Tinder caused in 2012, the concept of dating apps has become pretty interesting.
How to build a dating app better than Tinder? Let's find out!
What's The Catch 
with
Dating Apps?
The world came to a temporary halt after the COVID-19 pandemic, and it has eventually changed the way in which we get in touch with people. With malls, bars, and cafes shut for about a year- people got used to the isolation. Now, as people stay locked inside their homes, yearning for a connection, dating apps can be a boon for all!
Even though dating apps were pretty popular even before the pandemic, it is no more just the luxury and convenience of meeting people online that attracts people- it is more of a matter of social existence now. One of the primary reasons why people download apps like Tinder is to find people worth interacting with- while still drinking coffee on their beds.
Current 

Statistics 

of

 Dating Apps
Modern technology has completely revolutionized how we find someone for dating. Online dating is now no longer taboo. Let us take a quick look at some stats:
About 27% of all committed relationships start via the Internet.

Approximately 40 million people around the globe are on dating websites and applications.

The estimated annual revenue of all the dating apps is around $2 billion.

The total estimated worth of Tinder is about $1,6 billion.

Tinder, being the most popular dating app, bags around 50 million users from across the globe. Out of this, 60% came from the U.S.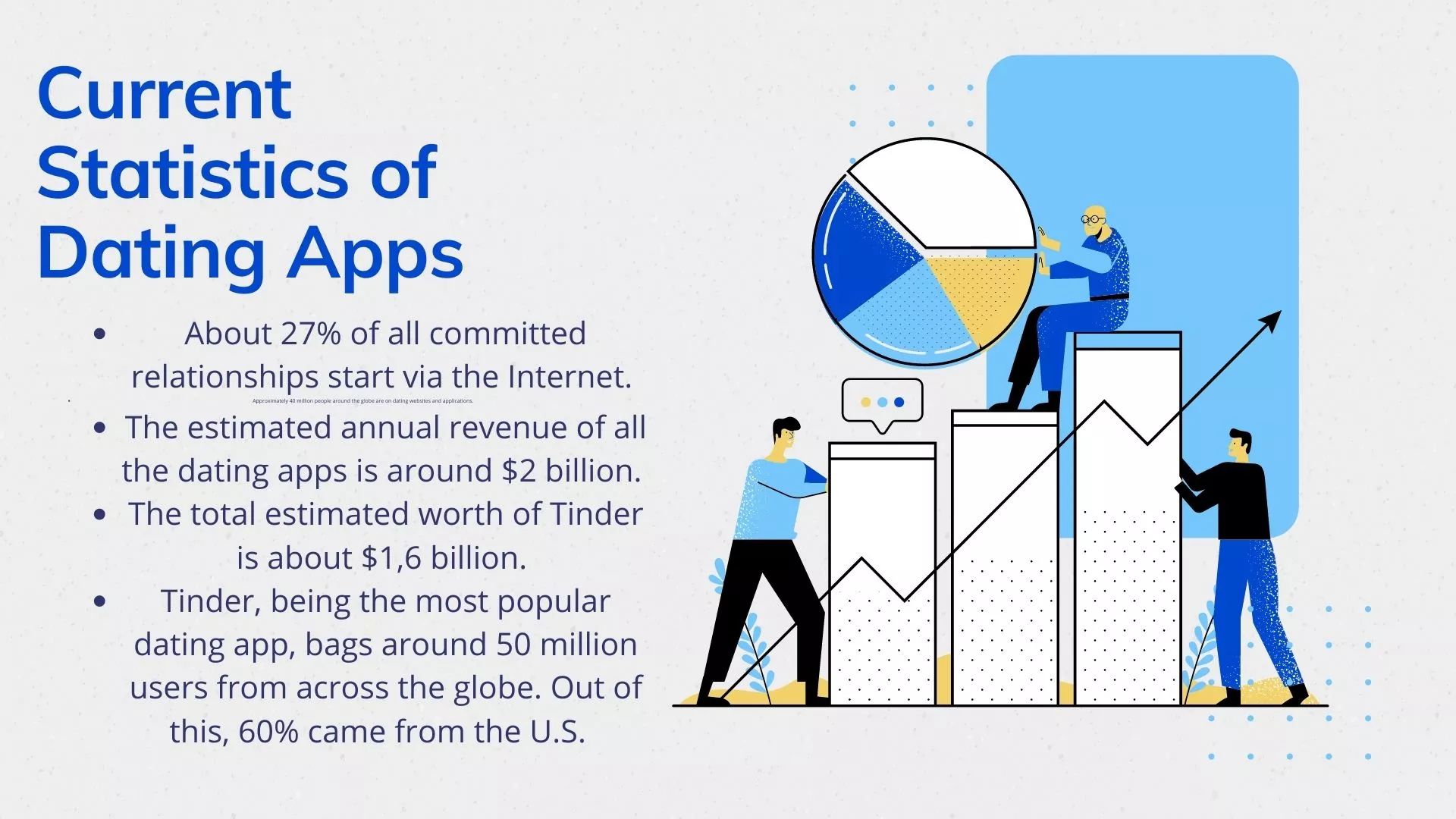 Many businesses are currently looking forward to leveraging the current situation. It all starts with building an app that connects people and hits the right chord- like Tinder.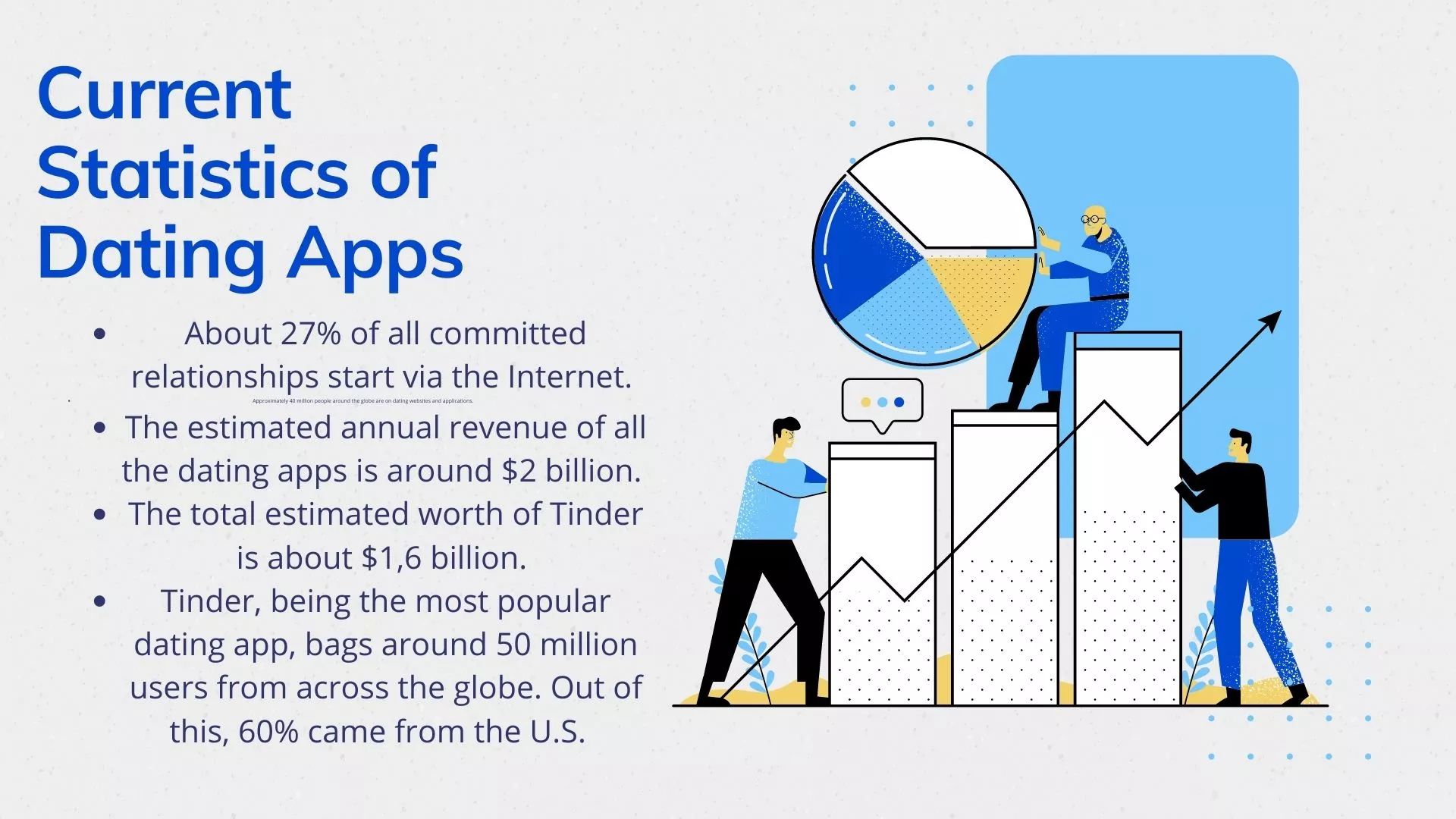 Read ahead if you think it is worth building a similar app for your business. Let us begin by looking at the vital elements that go into the development of such a business solution. It is best to consider things like,
Basic Features You'll Need 
in
 Your App
One may have a noble goal of creating a unique app destined to transform the market for good- but it is a prerequisite that you integrate a cool set of features into your application, such as: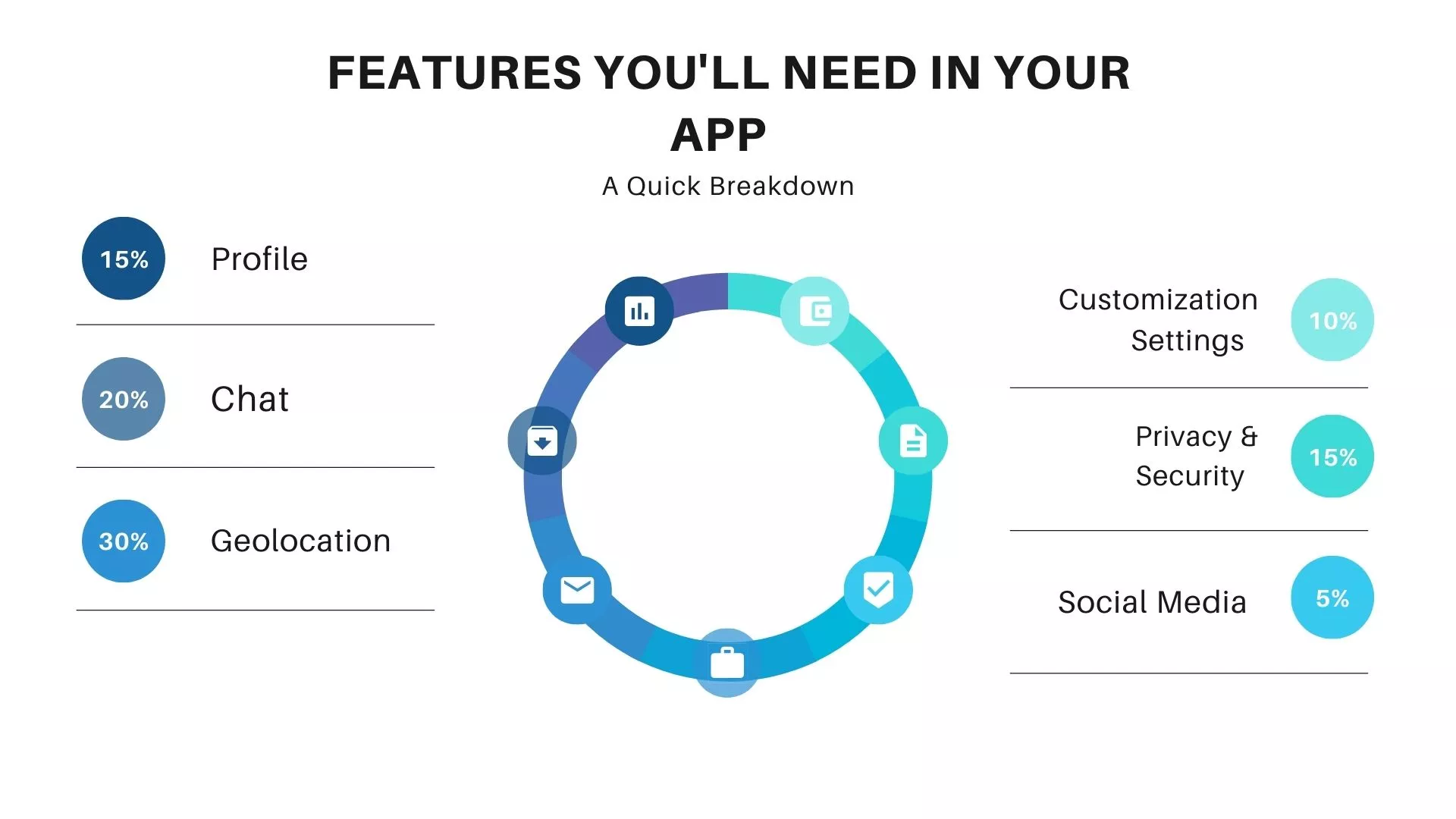 Profile
It is a no-brainer that every dating app will have a separate section for creating a profile. This profile must act as the first wave of interaction between users before they get a date. Try to keep this section simplistic but detailed.
Chat
A dating site cannot exist without the chatting feature and an inbox for the same. This feature should form the basis of the app that would allow its users to chat, talk, meet, and eventually date.
Geolocation
Your app should be location-based, or else it will fail. It's simple- users must know whom they are talking to and where do they live. This way, it will be easier to find and connect with people who live in the same vicinity.
Social Media 
It is one great way in which you can increase your users' interaction with the app. Allow your users to connect their social media handles, and you will be able to increase the app's reach among multiple channels in no time.
Matching Mechanic 
Your app needs an iconic swipe option of its own. Also, introduce a robust algorithm that displays suitable profiles, matches people, suggests chats (an introductory hello, intuitive replies, etc.), and many more. The machine learning of your app determines how successfully your app will run.
Customization Settings 
Allow your users to customize all the features and options. They can select the range (geolocation span) of matching profiles, keep certain information public or private (phone numbers, social media channels), allow/ disallow direct chats from profiles, share their Spotify playlist on the profile, and many more.
Privacy & Security 
Your users must feel safe- given that dating app might attract unwanted attention to their profiles. Make sure that you add advanced privacy settings. This way, users will be able to block any fake profile, unsolicited texts, or anything that makes them feel unsafe. The block option is a must-have.
How to Create a Dating App from Scratch?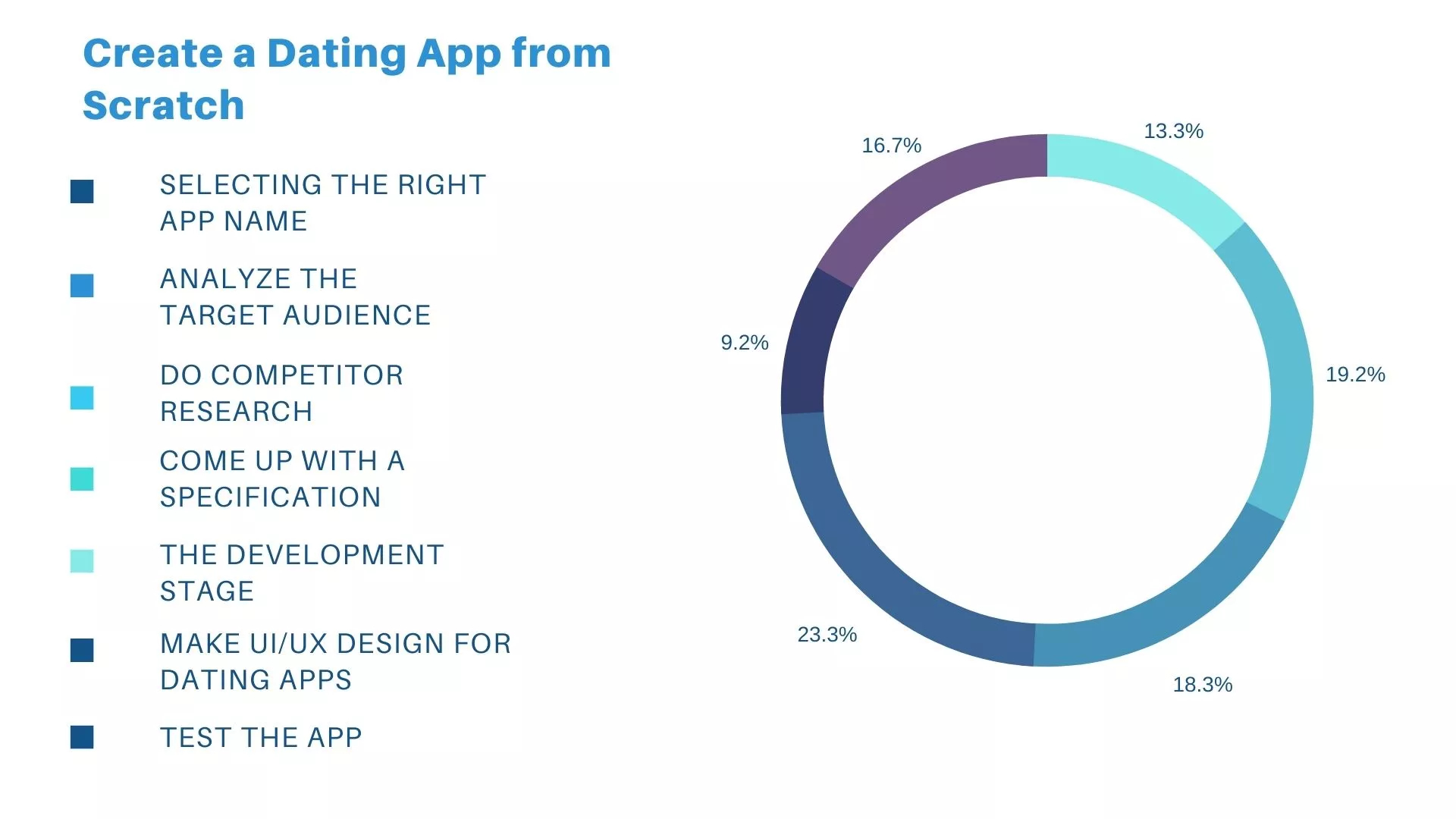 There is no direct answer to the question of how to create a dating app? Creating a dating app from scratch involves multiple stages- each of which you must treat with equal attention. Here are a few steps which you must take to create a viable and unique dating app:
Selecting the Right App Name
Executing a great idea is always the second step- having a great idea is still the first. 
Want to know how to create an app like Tinder? Have a good idea and a catchy name first! Try to get out of the box and choose something that clicks instantly.
Remember that dating apps are not just a thing of the millennials anymore- the GenZ and the boomers are getting on board lately. So, you might want to choose a name that doesn't sound cliché. It must be easy yet unique enough to stay on top of everyone's head.
Analyze the Target Audience
To make a dating app, it is very crucial that you understand what your audience actually wants. A general app that meets the requirement of different demographics is not enough- you have to know what lacks in your competitors' apps that you can compensate.
Everything- from the app's interface and title to the design and features- must go in line with the current user requirements. Do people want to be discovered easily? Provide social media integration. Does your audience prefer specifying their pronouns? It would be cool to add an option to specify it!
Long story short- give the people what they want. After all, the primary purpose of an app is to meet the market requirements.
Do Competitor Research
Is there something that the audience wants but the developers haven't yet been able to provide? What can you do to bridge this gap? What other alternatives do your competitors have? Is there something that needs to be changed in the market?
Be the trend-setter.
Cut your time on trial and error by focusing more on research. Uncover your competitors' insights to check what works and what doesn't in the market. It will save you months of testing and thousands of dollars before launching your app.
Come up with a Specification 
Once you are done conducting the market research and knowing your target audience, it is necessary to describe the overall structure of the app and its business processes.
The app specification is a document in which you provide a detailed description of how you want the app to work. It includes the app's MVP features, monetization plan, localization mechanism, and every other issue that you want to cover. The developers will then get started on the dating app development based on the specification while the designers create the way it looks.
The Development Stage 
This part is the most time-consuming one in the overall process of app development. It includes creating the interface, incorporating all the desired features, and making everything work- efficiently and effectively. You can either work with an app development company or even hire a team of developers who work on the software and its security. Along with this, they include push notifications, geolocation, settings, etc., on the basis of the number of inbuilt mobile features that you use in the app. If it's a native app, you are free to use more features- but a cross-platform app is a bit more confined.
Make UI/UX Design for Dating Apps 
The app interface plays a significant role and directly influences the user in deciding if they want to stay or switch to another app. The golden rule of a catchy design is to keep it simple, minimal, yet interactive and intuitive.
Remember that the users expect an understandable UX design that does not create any confusion. The colors should match the overall pattern, and the buttons should be easy to spot and convenient. Make sure you assess your competitors' interfaces as well to see what design features the successful apps apply.
Test The App 
This step is the Lat but not the least. It's conducted by the QA team and aims to detect imperfections and mistakes of the app. The team can test the app in many steps- especially the alpha and beta tests. The specialists inside the team can first test the specifications and the working of the app on various devices. Once given a heads up, they can launch the MVP version of this app in the market among a specific set of customers and work on their feedback. They can also upload it on testing websites where various users can download the app for free and leave their honest suggestions.
How to Make an App Like Tinder / OkCupid? 
Tinder and OkCupid are rightfully the most popular dating apps- having a huge worldwide user base, mainly among the GenZ and Millennials. They got some really cool features, especially swiping- that made them role models for those who are learning how to build a dating app and are willing to build a good product.
Thus, to compete with Tinder, Grindr, Bumble, OkCupid, and other dating apps, you must understand the concept of their success in the market.
First of all, these apps have made the process of searching for a match/ partner extremely simple. You first sign in with your existing social media account, and these apps use an automated transition of the necessary information into your personal app profile. This way, you can start swiping photos and profiles of the users who live nearby.
Another innovative feature that makes such apps stand out in the market is their gaming spirit. People love swiping through their screens while searching for a soulmate at the same time. This feature adds entertainment and gamification to the process.
Important Points 
To
Consider
If you want to know how to make an app like Tinder, pay close attention to how Tinder, Bumble, OkCupid users get to adjust the search settings on the basis of age, sex, and location. You can monetize this feature by setting a bigger radius for the free version and the exact location for the prepaid one.
If you pay attention to the latest algorithms of AI, then you can take the product to a whole new level. The app must match the user preferences to find more accurate matches. This technology would also work great in checking and verifying user IDs. It would help create a secure environment and minimize catfishing.
Finally, you must also implement the detection of spam. This clever algorithm would allow tracking of those messages that are sent to several users at the same time.
How Much Does It Cost to Create a Dating App?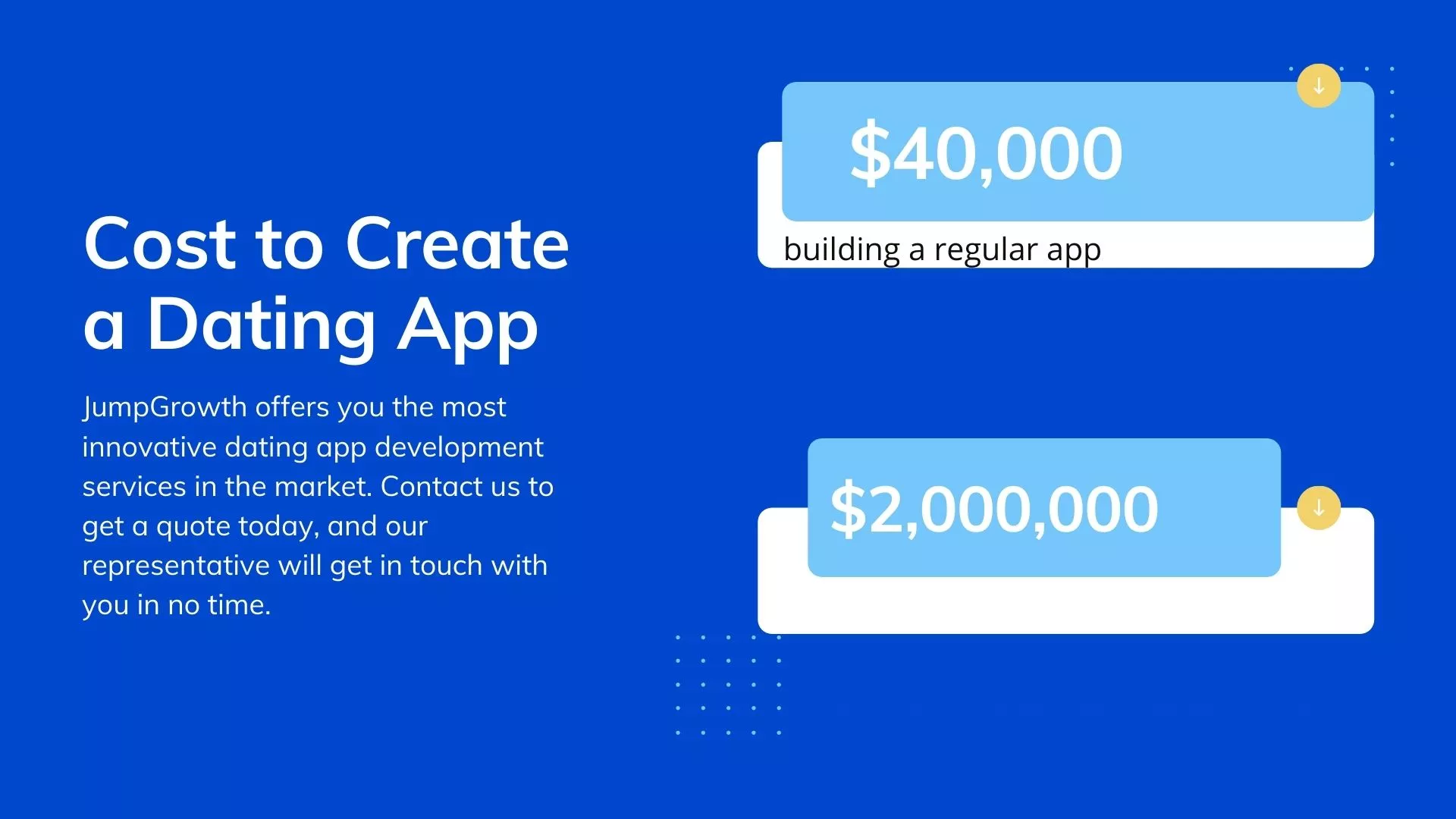 The dating app development doesn't come with a fixed price tag. But the overall cost varies directly on the basis of what features we are showcasing on it.
Any dating app development would require the owner to have separate panels- one for the user-end, one for the developer end, and one on the owner's end for management. Added to this, you must decide if it is going to be a cross-platform or native app, what inbuilt features it can utilize, like camera, GPS, etc. Then you must integrate third parties accordingly, like Google maps, social media, payment modes, etc.
All in all, the complexity and time that goes into building your app decide how much it would cost. On average, building a regular app would cost you $40,000 to $2,000,000 for development alone.
Thinking of making a dating app of your own and want to know the cost? JumpGrowth offers you the most innovative dating app development services in the market. Contact us to get a quote today, and our representative will get in touch with you in no time.
How Long Does It Take to Build a Dating App? 
The time that would go into a dating app development like Tinder / OkCupid depends on various factors- for instance, the OS that you are planning to use, the total number of features you will incorporate, and the total time that goes into the development of each. Here is the average creation time that goes into every feature of the app:  
Personal Profile: 160+ hours

Onboarding: 95+ hours

Matching: 80+ hours

Finding people: approximately 150 hours

Chatting: 130+ hours

Settings: 60+ hours

Push notifications: 40+ hours

Security issues: around 55 hours
All of the features and time mentioned above involve other specialists along with developers. At the very minimum, you will also require a QA professional, a UX/UI designer, and a good project manager for overall coordination. Thus, to make a dating app and launch it, you will need a minimum of 1400 hours. But it may vary on the basis of features.
How Do Dating Apps Make Money?
Before we answer this question, keep one thing in mind- there are about 4.83 million applications available on Google Play Store and the Apple Store, and you can expect many more to enter the domain every single day. Thus, the competition is tough and unavoidable. And obviously, a vast majority of these apps are trying to earn.
Users are clever, and if you don't focus on the right considerations for monetization, your app might look pushy, greedy, and not at all enticing. Avoid this. Prevent your app ideas from sinking like a Titanic. Here is a list of things that must consider before you even think of earning:
App Purpose
Never forget why you built the app in the first place. Running unnecessary ads that have basically nothing to do with dating might drive the audience out of the UI after the first use itself.
Competitor Analysis
Your competitors' insights will help you get a hint of the strategies used by similar applications, and what all profits they have earned. Try understanding their models, and save your time on trial & error.
Target Audience
If you build a mobile app for businesses and entrepreneurs, then your monetization strategy should not waste their time. Likewise, an app for kids must have a free interface with in-app purchases. Similarly, to make a dating app, you must know what your audience requires. Focus on the demography, age distribution, if users are willing to pay for certain features, etc.
Technologies Used
The technologies you use in your app not only make it stand out from the competition and enhance the user experience- but they also add to the earning models. For instance, a traditional model provides developers with only 70% of the amount paid for the app, but a blockchain-based model delivers 85% of the total app profit.
Now that we have covered these factors- let us directly cut to the chase. Here are the most common models that you can use to earn from dating apps:
Freemium
Provide every user with all the primary services and charge them for the extra ones. It can include anything- from ranking higher on the list of possible matches, getting ad-free service, to unlimited swipes (basic users can have a daily limit), etc.
Membership Fee
You can do this once you have a solid audience base. App owners can charge their users to download their app. Sure, it will limit your reach to a targeted set of audience, but your app will be more of a premium product. Thus, no fake users or fraud will be involved. It will also build trust among your users.
Subscription
This also might not be a very viable option when starting out, but pretty common among a majority of dating apps. Apps can charge weekly or monthly fees for their regular users. It is more of a selling point for serious users, but make sure you incorporate this feature once you have a large user base and a stronger market reputation.
Adverts
It is one of the easiest methods of monetization. You can make money from the available clients while you keep the app open for all. After this, you can charge for the app's ad-free version.
In-app Purchases
App owners can let their users buy certain things from apps such as virtual gifts, digital flowers, teddies, emojis, stickers, cat pics, promote their profiles, encourage warm interactions, etc.
Ready To Build an App?
There is so much potential in the dating app development industry. According to Pew Research, about 40 million Americans use online dating apps regularly. It means that the interest in downloading and using dating apps will continue to grow. So, there will always be enough room for new applications.
Still confused how to build a dating app? Got an idea to create a dating app like Tinder? We will help you build it cheaper and faster than the traditional methods. Have no code? No problem! Contact JumpGrowth. We provide software development services that meet our clients' expectations and needs. Contact us to make a dating app that would not only be viable but would also hit the top-ranking charts!