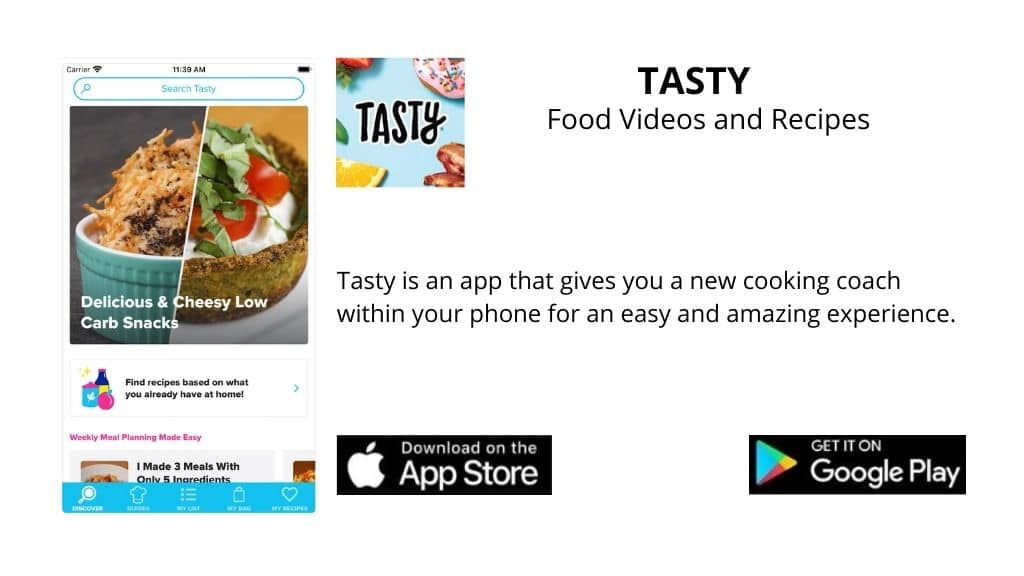 Cooking is a great skill to have, however it is a lot easier said than done. If being able to make delicious meals for you and your family is something that interests you, then we might have found your perfect app. Tasty is an app that gives you a new cooking coach within your phone for an easy and amazing experience. Whether you are already an experienced cook or just now wanting to get your feet wet, Tasty can be a great tool for you.
Tasty has some amazing features that help you through the entire cooking process. For starters, you get step-by-step instructions for every single recipe you decide to use. Secondly, if you are more of a visual learner, Tasty also offers videos that help you improve your skills. The recommendation feature is another benefit that Tasty provides. It will give you awesome recommendations for your upcoming meals depending on the time of day, day of the week, and even major holidays.
Tasty also has an incredible personalization feature that allows you to hide all recipes with ingredients that do not align with your diet. For example, if you are a vegetarian you can hide all recipes that include meat. Tasty is on a mission to give everyone access to all the tools they need for their cooking desires. They are doing this by giving users a cooking coach in the palm of their hands for easy and efficient use.
Tasty has an outstanding 4.9 out of 5 ratings on iOS and a 4.7 out of 5 ratings on Android. To go along with this, they are also an editor's choice on both platforms. While eating out is always a great family time event, being able to make delicious meals for you and your family in the comfort of your home is an experience everyone should be able to enjoy. Whether you are a beginner who wants to learn how to cook or a skilled chef already, Tasty is a great free app that can help you through your cooking journey.
Need Help With App Development?
Our experts can help you in developing your next world class apps.