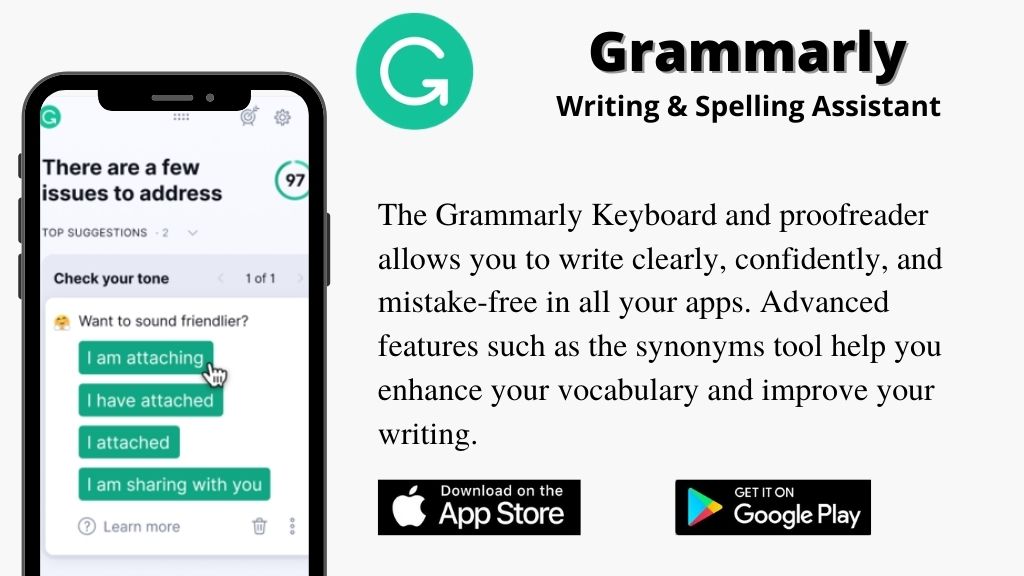 Introduction
Whether you are writing a text, email, or school paper, nobody likes realizing they made a grammar error right after hitting send/submit. Simple spelling or grammar errors happen to all of us; it is nothing to be ashamed of. That is why having an app to help you limit these errors is something anyone could use. Grammarly – Writing Assistant is a free to use app that will give you real-time writing feedback through their keyboard across all the apps on your phone.
Features and Tools
Grammarly is a simple to use app with some great functionalities. For starters, it will show the users real-time suggestions and corrections. Whether it is their grammar checker, vocabulary enhancement, or other suggestions, they will all be in real-time as you are typing. Another great feature is the ability that Grammarly gives you to use their keyboard on any other app on your phone.
No matter what other applications you are typing on, you will still be getting all the benefits. The last thing I want to bring up is the ability to use Grammarly on your computer/laptop just as easily as you do on your phone. While I am mainly focusing on the app version, this is still a great benefit to bring up. Users can easily maneuver from their phone to their computer and still use all the great features and tools available to them.
App Rating
User-friendly: 4.5/5
Design: 4.5/5
Features: 4/5
Engagement: 3.5/5
Reliability: 4.5/5
Overall Score: 4.2/5
App Details
Size: 162.5 MB
Category: Productivity
Age Rating: 4+
Final Thoughts
Grammarly – Writing Assistant is a great free to use app on both iOS and Android devices. In today's world where we are constantly using our phones to send messages or emails, there is no reason to not use an app that will help you with your grammar. While there are many different apps out there, Grammarly is one of the best out right now. If this is something you are looking for, Grammarly is a great place to start.
Need Help With App Development?
Our experts can help you in developing your next world class apps.