Earnin (iOS, Android) is a community-supported financial app that allows you to withdraw small amounts of the paycheck of your earned wages before your payday. Earnin lets you access up to $100 a day, help avoid overdraft fees, and find ways to help save on your finances.
Best Earning Apps
There are many of us who don't receive weekly pay or some of just simply struggle with bi-weekly pay. "A two-week pay cycle is hard on people who have to budget every penny," says Ram Palaniappan, CEO of California-based Earnin. "If they worked today, they should have access to their money today." The Earnin app is designed to help the working class overturn the current system, so we can all reach a fair and better place financially.
Now, there are ways to make money from apps and actually get paid before payday. How do some things sound too good to be true? Nope, there's no fees or interest when you sign up with Earnin. Simply, create a profile and fill in your checking account information. Once you've signed up, instantly cash out your earnings whenever and pay what you think is fair. Earnin's services allow people to choose what to pay, less or more, or sometimes supporting community members pay it forward for you.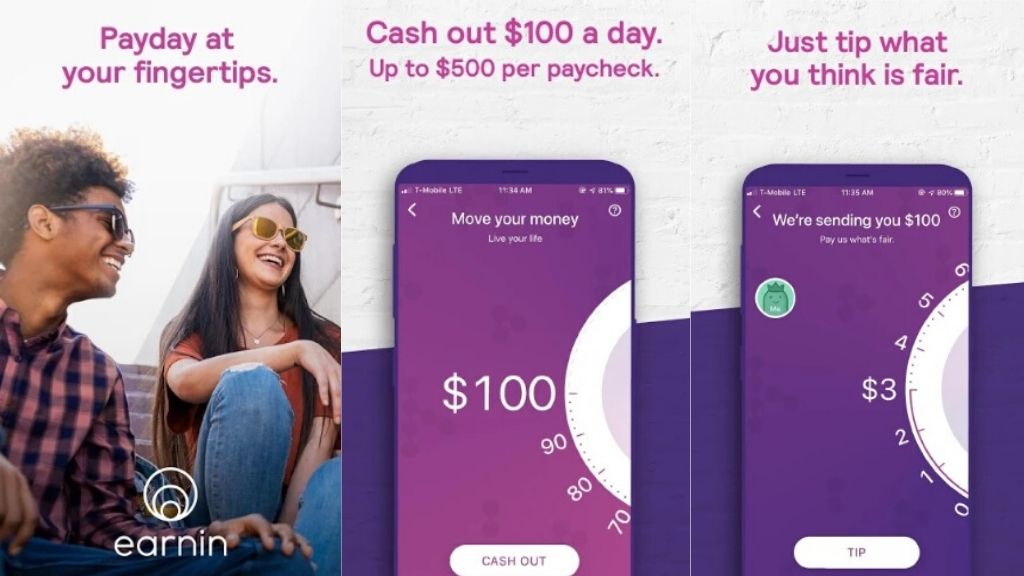 However, to use Earnin, you will receive your paycheck through direct deposit. Earnin pays you by tracking the hours you work. Depending on your job, like hourly workers, you can upload photos of your daily timesheet or connect the app with your company's timesheet system. For salary employees, the app tracks your location to confirm that you worked for that day. Even on-demand workers can upload photos of their task receipts, such as a Door Dash delivery order (as it automatically uploads for Uber).
Once you request to withdraw money, Earnin will verify the hours you've worked. If it's through your company, it can take up to 10-15 minutes through the app to upload. All requested money is available the next business day, if it's requested on a weekday, and on the next business day if you request during the weekend. Though, some banks do support instant transferring as well. The app gives you the option to tip, which is then deducted from your paycheck along with they money you had withdrawn.
Earnin allows you two withdrawal limits, a daily limit of $100, or if your pay meets Earnin's guidelines, your limit can be up to $500. The total amount you can withdraw during your pay period depends on how much you actually get paid, as the app encourages users to spend less than what they make to avoid overdraft fees.
The Balance Shield feature is there to help protect you from such fees, so you don't ever fall below your balance. Set up alerts to notify you and cash out up to $100 if you fall below, for Regular Balance Shield Cash Outs, set re-occurring tips and adjust the tip amount whenever.
Explore better options to pay your medical bills, Health Aid is a feature that lets you submit your medical bill so Earnin can negotiate for you to infinitely lower your payments that works best with your budget. The app also features Cash Back Rewards, save up to 10% cash back when you enroll your card at local stores and restaurants by simply running your card "as credit".
Need Help With App Development?
Our experts can help you in developing your next world class apps.