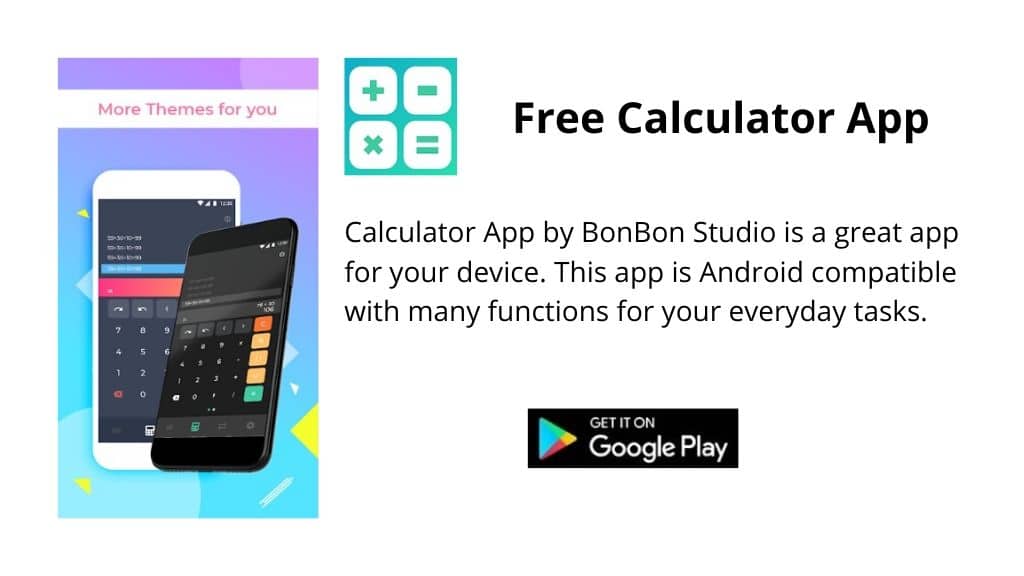 Hi there! Calculators are one of the most essential tools people use to compute numbers. Well, if you were looking for the perfect calculator look no further. A calculator app by BonBon Studio is a great app for your device. This app is Android compatible with many functions for your everyday tasks.
For example, students will need assistance with homework more than ever. Due to the coronavirus, students are unable to go to school. Now they are working assignments from home. Not even just students are impacted, but teachers and workers need support with their workloads as well. This app provides scientific calculator functions such as powers/exponentials, memory keys, constants, trigonometry functions, etc.
Also, converting has been underestimated. Daily tasks such as shopping, driving, saving money, and much more use conversions all the time without you knowing (which are supported inside this app). For example, take checking the sales tax you have paid on items purchased or measuring the efficiency of your fuel consumption. When thinking of a calculator people never consider the sophisticated technology behind computing all things practical. But its key components are needed to sustain many forms of activity.
Double-checking the accuracy in subject matters or tasks is simple with the Calculator app by BonBon Studio. You can see both Math and Science in a different light with easy functionality. Although most use calculators freely, they are necessary for everyday life. And with this app versatility is an option. Choose the applications' design by color and theme display according to your personal style.
Yes, a calculator application has defaulted on all smartphones currently. But … Do current smartphones have one of the most reliable computing software to date? This app will give you that extra spark other calculators do not. Don't hesitate to replace your existing calculator. Replace it with a BonBon Studio calculator and see the results yourself.
Need Help With App Development?
Our experts can help you in developing your next world class apps.