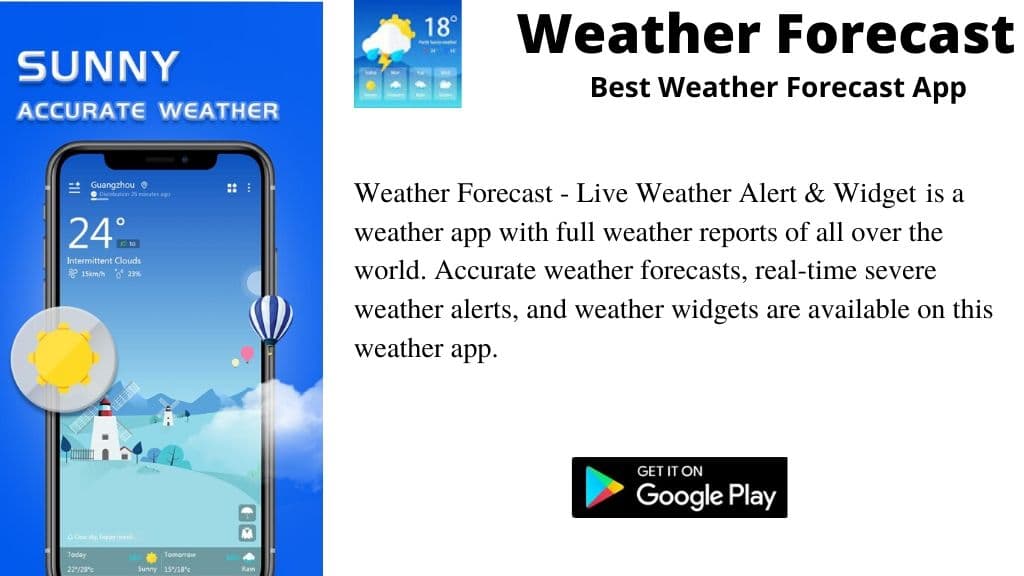 Introducing the newly improved weather forecast app for all conditions. Say hello to the Weather Forecast – Live Weather Alert & Widget app! This app has been updated in April 2020 to fix bugs, enhance weather animation, and include a new radar chart for visibility. Think of what you would need on a weather app. This app has what is needed to commute, plan activities, and much more.
The weather report has almost every aspect you can think of. Clear weather radar depiction for showers and storms come in handy when outside in the hazardous elements. If severe weather (lightning, thunder, hail, etc.) is headed in your area, you will be notified. When it's gloomy and cloudy, look at the expected Storm chance and hourly humidity.
When just raining, see the chance of rain, duration, precipitation, and total rainfall so you are not too soaking wet. Not to mention having real feel temperature included. The app does not only have the precise temperature in your area, but also the feel of the temperature when you step outside. And when it's the winter seasons, check the snow/freeze chances, total, and duration. Bonus features included wind gust, speed and trajectory, sunrise and sunset times, cloud coverage, and air quality.
Enjoy the 10-day forecast in Fahrenheit and Celcius! The moving animated depictions of the current weather conditions such as falling snowflakes, sunshine, rain, etc. add a touch of character to a widely uses app type. If you'd like to see other cities weather, just search the zip code or use GPS for narrow results.
The app can manage up to 11 cities weather forecast. So, if needing to travel or for curiosity only you have plenty of options. Like said before, every aspect you would need to stay safe and comfortable when it comes to weather is in the Weather Forecast – Live Weather Alert & Widget app. Download it today!
Need Help With App Development?
Our experts can help you in developing your next world class apps.