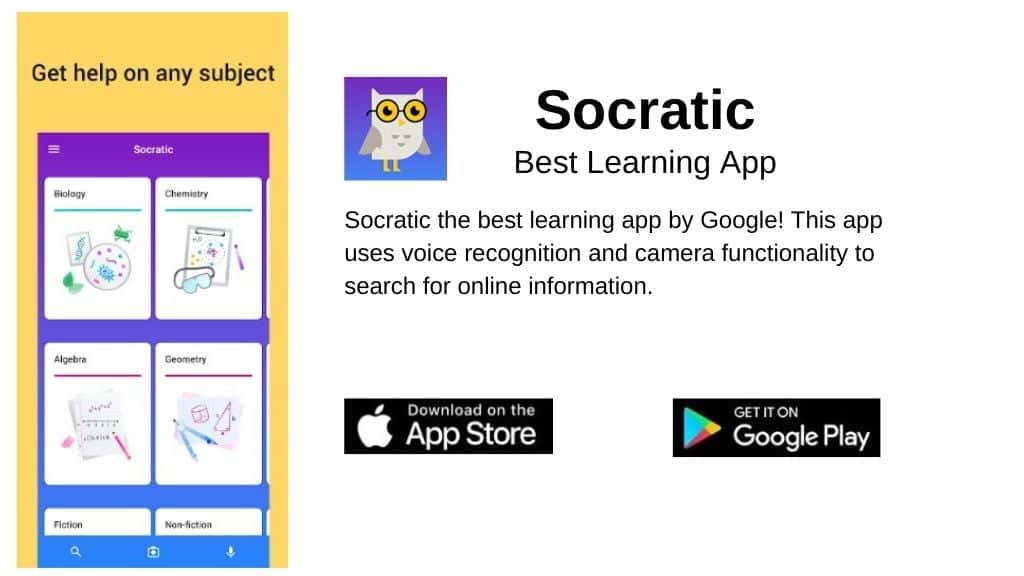 Finding educational information for courses in school is usually difficult. Many times portals advised to use in schools are ambiguous or misguiding. Now there is an app to eliminate those struggles! Introducing, the new Socratic the best learning app by Google! This app uses voice recognition and camera functionality to search for online information. Have a question about a subject? The app allows you to ask a question and the results will be located online in front of your eyes.
The accessible study guides are attributed to teachers and other professionals who wanted to make learning easier for people. Video visuals and photo representations will display assistance in the simplest way. Courses of study can be explained in a step by step process, making the learning experience a breeze. The most challenging subjects for high school and college courses are highlighted within this mobile app (including Biology, Algebra, Geometry, Chemistry, Trigonometry, Literature, Physics and History).
Socratic (iOS, Android) is rated 4.6 stars on the Play Store and reviews so far have been impressive for such a newly refined app. Most have said the best learning app has been "accurate", "neatly designed" and a simple to understand program. Socratic can search through millions of sites, finding answers to your mathematical, scientific or literature dilemma's.
Socratic has been both released and updated in February 2020. This gives the consumer the most technologically advanced experience. Downloaded by 100,000 + people within one month seems to be great progress. With the momentum Socratic has obtained, it is a matter of time before it becomes a household name. If you ever needed help understanding perplexing topics from school, this app can be your best friend! Targeted age groups would be those taking entry level high school courses to business professionals who just need a refresher on their expertise. Most anyone can use this app to educate themselves. Why not you?
Need Help With App Development?
Our experts can help you in developing your next world class apps.